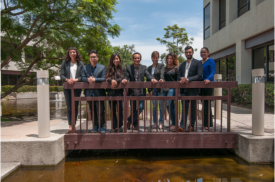 Judy O Butler, Chief Executive Officer
Judy holds an MBA and leads a dynamic International STEM Recruitment Organization employing several associates. She is the owner and CEO of this successful STEM Recruitment Firm in Orange County with over 22 years of business development and recruitment experience, including negotiating and offering new careers to both Engineers and Executives. Results driven team leader with a proven track record of achieving and surpassing goals. Creative problem solving entrepreneur with high aptitude comprehension and an increased knowledge of technical skills with the ability to understand and undertake risks to operate in challenging environments. Assertive and energetic individual with natural revenue generating results and outstanding negotiation, communication, and interpersonal skills. A professional who enables successful engagements with all levels of corporate hierarchy.
Prior to establishing and building her current company, she owned a High-Tech Production Gaming company that created and designed interactive games for Nintendo and Sega Genesis. Previous positions held before RSI include; The Walt Disney Company and Ernst & Young as their Marketing Associate.
RSI's motto is: We impact people's lives in a positive way. Our mission is to conduct business in the most ethical fashion, which means we do not necessarily always place STEM talent to our clients if they are not the right caliber.  RSI believes in further educating oneself, therefore we highly recommend getting a degree, since we only represent STEM talent.